Lobby – Drop ATOS as Games 2014 Sponsor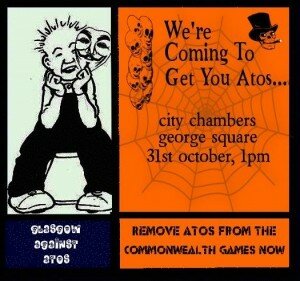 Thursday 31st October
Drop ATOS from the Commonwealth Games – Lobby of Glasgow City Council
George Square, Glasgow G2 1DU
1pm
Lobby of Glasgow City Council, organised by Glasgow Against ATOS.
We need you! On the 31st October, Councillors of Glasgow City Council will be
debating a motion to drop ATOS as a commonwealth games sponsor. Please come to
George Square for a lobby of those councillors who are debating this motion.
Thousands of people have died after going through the ATOS work capability
assessment, ATOS are not fit to be a sponsor of the games and we ask that as
many people and organisations let them know how we feel about this immoral
company's involvement in the Commonwealth Games next year.
FANCY DRESS VERY MUCH  ENCOURAGED, ITS HALLOWEEN AFTER ALL SO IF YOU'RE UP FOR IT GET YOUR BEST HAUNTING GEAR ON !
https://www.facebook.com/events/219037268264562/
See previous GM 2014 posts, commentary and short film of testimonials:
Background: http://gamesmonitor2014.org/2013/10/04/crunch-vote-on-atos-commonwealth-games-role/
Commentary: http://gamesmonitor2014.org/2013/08/08/atos-kills-and-it-has-accomplices/
Short film of testimonials against ATOS: http://gamesmonitor2014.org/2013/10/24/unfit-for-2014-campaign-film/