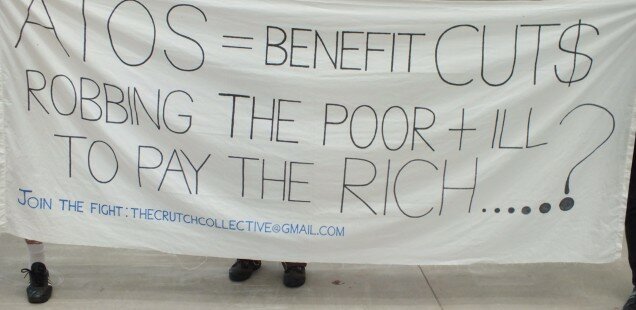 Disability Rights Activists Occupy the Chris Hoy Velodrome – Video Footage
Documentation of recent occupation of the Chris Hoy Velodrome by Disability Rights Campaigners protesting the Scottish Government and Glasgow City Council's decision to allow ATOS to sponsor the 2014 Commonwealth Games.
While we think that some protestors in the video over-personalise the problem by concentrating on Chris Hoy too much, it remains a great document of people who've been directly effected by ATOS taking things into their own hands.
A wider question people should be asking is how workfare is being mapped out through the Games in an area of high levels of long-term unemployment. In that sense, ATOS are in many ways the perfect fit for the Games, rather than an aberration.
See previous Games Monitor post on the occupation here
We'll be asking the question – does ATOS kill? – in an upcoming post. Stay informed!