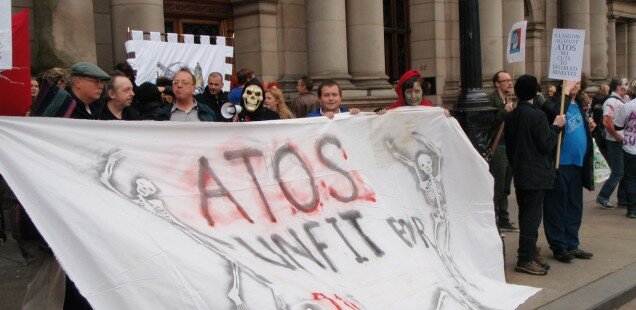 2014 ATOS Council Vote – Dismaying Result
The outcome from  yesterdays council vote on removing ATOS as a 2014 Commonwelath Games sponsor was dismaying yet somewhat predictable. Despite having the backing of SNP and Green Councillors the motion was quashed  as every Glasgow Labour Councillor voted against it. Photographs from the demonstration that happened outside the city chambers can be found on the Glasgow Against ATOS facebook page. The story was also covered by Grace Franklin for Local Glasgow News and is pasted below:
Response to ATOS debate causes Council meeting to be suspended
Protesters outside the City Chambers made their Anti- Atos feelings clear.
Labour Councillers were told they had 'blood on their hands' at a stormy  meeting of Glasgow City Council today. (Thursday 31 October 2013)
Shouted from the public gallery after a motion to removed ATOS as a corporate sponsor of the 2014 Commonwealth Games was defeated, several people there loudly condemned the Councillors. One man was arrested and charged with alleged breach of the peace.   Police Scotland (Strathclyde) say a report has been sent to the Procurator Fiscal.
The motion was moved by SNP Councillor Billy McAllister from Canal Ward 16.
While recognising the 'immense economic and social benefits' to be derived from the 2014 Commonwealth Games and commending the international exposure which Scotland and Glasgow would receive from the Games, Councillor McAllister said: 'ATOS must go as a sponsor. This is a company without any conscience. It is destroying lives.'
He gave details of individuals who had been assessed by ATOS Health Care as fit to work. One died within weeks of being declared fit for work. Another committed suicide. Said Councillor McAllister: 'At least 10,000 people have been declared fit for work. ATOS is an ugly stain on our society. Their costly contract should be pulled. I do not wish to accept the shocking damage ATOS is doing to Glasgow's citizens.
Even as people in the public gallery applauded him, the Lord Provost gave him a dressing down for being 'disrespectful' of her by continuing to speak well beyond the time permitted.
SNP Councillor John Letford of Maryhill/Kelvin Ward15, supported the motion to removed ATOS as a sponsor of the Games. He said 'ATOS is the problem, not the solution.' He called on people working for the health care assessment sector of the company who believed in social justice to follow their conscience and move to another job. 'We must remove this monster called ATOS,' he said.
But Labour Councillor Archie Graham for Langside Ward 7, who is Executive Member for the Games said: 'You must separate ATOS health care from the Games sponsor ATOS which is a different arm of the company.' He accused  the SNP Councillors  of attempting to damage the Commonwealth Games. He produced a picture of Nicola Sturgeon, SNP Deputy First Minister 'enthusiastically participating' in a Commonwealth Games lead-in event  where she was being 'cheered on' by 'the man from ATOS.' He said it had been decided that ATOS was capable of delivering the Games' services. 'It is now impossible to distance ourselves from them. Where would the billions of pounds of sponsorship come from now?' he queried.
Both Green Party Councillor Martha Wardrop for Hillhead Ward 11 and First Glasgow Councillor Stephen Dornan for Govan Ward 5 spoke out strongly against retaining ATOS as a sponsor for the Games.
Councillor Wardrop said she strongly criticised ATOS and the way it treated people being assessed. But challenged the Labour group that their concern was 'All about the money they are bringing to the Games.'
Councillor Dornan urged Labour Group members to vote with their conscience. 'Money can never replace people. That's your choice.'
In his final response, Councillor McAllister said to Councillor Graham directly: 'Shame on you if you put profit before people. You can't say this is outwith your area. This is about our constituents in Glasgow. If you don't vote with your conscience, this will come back to haunt you. This should not be about party politics,' he warned.
The final vote was 29 for Councillor McAllister's motion and 42 against.
At that point the public gallery erupted with people shouting down to the Councillors and throwing down handfuls of monopoly money.
One man shouted: 'How will the disabled athletes look on this?'
As the police intervened in the public gallery the Lord Provost closed the Council session. Most Councillors re-assembled after a 20 minute break to continue the business of the day.
During the recess Councillor McAllister said he was very angry about the whole issue. 'A lot of Labour Councillors said to me privately they'd like to support this motion but the Labour Group have whipped them into voting against it. It shows the state of Labour in Glasgow when they can't vote with their conscience. We govern the city. If we don't condemn the way ATOS goes about its health business we are condoning it.'
Before the Council meeting re-convened, Councillor Graham called Councillor McAllister's conduct 'an outrage.'